<!-PUT THE JOUNAL TITLE BETWEEN THE H1 H1 BRACKETS -->
Welcome to Larry's Canoe Journals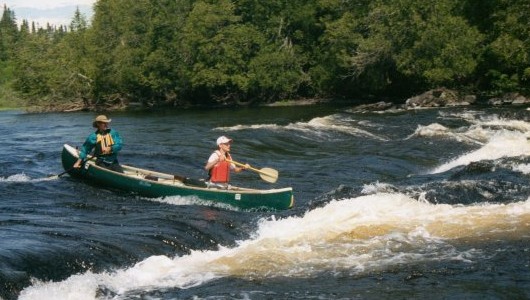 The sole purpose of this site is to provide a repository for the journals documenting the wilderness or semi-wilderness canoe trips I have taken with my friends and family since 1982. The majority of the trips were on Canadian canoe routes. The journals were completed from notes compiled during the trips and were authored either by me, my good friend Jim Brown, or through a collaborative effort. These are very detailed journals intended to preserve as many memories as possible. To some extent, they can serve as a guide to future canoeists, but it is important to remember that these are old journals. Rivers change over the years, from season to season, and even from day to day. In some instances, the near-pristine rivers we traveled have been dammed up or environmentally devastated by logging. Also, river descriptions vary with the experience level of the canoeist. What may have seemed extraordinarily challenging in the early years when we were inexperienced, became routine in later years as our wilderness and whitewater skills became more refined.
Most of these trips were on Northern Ontario rivers and lakes, usually in late June during somewhat higher water and in the thick of black fly season. Generally, the trips were physically challenging because of the bugs, the difficult terrain, our bad habit of taking too much gear, and our propensity for pushing hard to cover as much territory as possible in the limited time available to us. Although we are still doing week-long trips, they are now less challenging than the trips detailed in these journals. Physical limitations (and belated good sense) have begun to affect us. Perhaps for that reason, these old journals, together with our photographs, have become treasures to us. I am happy to share them with you.
L. Walter
---
Journal Summaries:
Algonquin Provincial Park, 2010
The route we followed is sometimes referred to as the Hogan Lake Loop which begins and ends at the village of Brent in the northernmost part of Algonquin Park. It was intended to be a less strenuous and perhaps safer lake-to-lake trip, but turned out to be surprisingly arduous. The portages were very long and the September weather was cold and wet. On the other hand, the scenery was beautiful and mushrooms festooned the landscape.
White River, 2001
The White River is (or at least was) one of Ontario's most beautiful rivers. It features numerous challenging rapids and waterfalls, including the extraordinary Umbata Falls. My first trip there in 1988 left me in awe. I planned a return trip in 2001 to share this wonder with my three sons before it was ruined by a damming project and increased clear-cut logging. Because we all had good whitewater skills, we were able to run many of the rapids that had necessitated arduous portages in 1988. It was a pleasurable outing, but I was unable to recapture the wonder of that first memorable trip.
Sturgeon River, 2000
This is the story people find most fascinating because it involves serious injury far from medical attention. The plan was to fly to a remote location in the Tamagami region, then paddle back to civilization in seven days. The plan did not include Rob breaking his wrist on the third day and my resultant transformation into wilderness doctor and adventure racer in the triathlon from hell. This was the only wilderness trip I have ever taken with just one companion and it dramatically illustrates why that is a risky proposition.
Okefenokee Swamp, 1999
This journal was written by my youngest son, Chris, when he was 12 years old. I did not keep a journal because much of the trip was documented by videotape. The trip through the swamp spanned 5 days and 4 nights. On three nights we camped on wooden platforms raised above the water and beyond the reach of alligators. The fourth night was spent on an island teeming with wildlife accustomed to human incursion. It was very cold--below freezing on several nights.
Groundhog River, 1998
Jim Brown kept contemporaneous notes on the Groundhog River canoe trip, but he never completed a journal. In February of 2008, I prepared this summary from his notes, my photographs, maps, and memories. The trip featured some of the most beautiful and exhilarating rapids we ever ran, plus an abundance of wildlife. As usual, Rob and Jim accompanied me, plus my son Brent. For the first five days, the river was wild and full of surprises. During the final two days, as we neared the dam, the current lapsed and the Groundhog became a sluggish semi-lake. I have received more inquiries about the Groundhog River than any other route I have posted on this web site. I hope this summary will be helpful to those planning their own trip, but please bear in mind that my trip took place a decade ago and a lot can change in that time.
Steel River Circle Route, 1997
The Steel is a beautiful loop canoe route with plenty of challenges, including the toughest portage I have experienced, the Diablo Portage. It was also the only trip on which we had to blaze a completely new portage trail through the woods around a huge displaced logjam. Another first was that I contracted giardia while on this trip. Unfortunately, no one kept a journal; so, many years after the fact, I put this summary together with the help of scattered notes, photographs, maps, and fading memories. While it lacks the detail of the contemporaneous journals, it does provide an accurate description of our experience. I would gladly paddle this route again if I could skip Diablo and the giardia.
Lower Missinaibi River, 1996
The Missinaibi is a classic route of great historic significance, once serving as a major trade route for native peoples as well as the Hudson Bay Company. Also, a number of canoeists have lost their lives on this river, especially at Thunderhouse Falls. We had paddled the Upper Missinaibi in 1994, and we completed the journey to James Bay with this trip two years later. This is only the start of a journal covering the first couple of days. This trip deserves a full journal, but the photos will have to suffice for now. It was a tough but enjoyable journey featuring dramatic falls and rapids such as Thunderhouse; an island campsite infested with large biting deer flies; a fierce thunderstorm that forced us into the bush for shelter; three 30-mile paddling days into a strong wind; transformation of the landscape from granite shield to alluvial muskeg; culture shock and a sleepless night near Moosonee; a power boat trip to James Bay and a long train ride back to Cochrane.
Chapleau River, 1995
This was the first Canadian trip for my oldest son, Drew, and for his Uncle Steve. It featured plenty of rocky rapids, tough portages, and even some swimming opportunities. The weather was uncharacteristically warm and the black flies and mosquitoes were intense. This is the only river trip in my experience where we mistakenly bypassed a portage necessitating extreme maneuvers to avert disaster. The trip ended in the hamlet of Elsas where we caught a train and rode in the boxcar back to civilization. What more could you ask for on a first trip? This journal was written by Jim Brown.
Upper Missinaibi River, 1994
This memorable canoe trip took us down one of Canada's most famous Arctic watershed rivers. It was the longest of our trips (10 days), and this is consequently the longest of our journals. The frequent rapids were consistently challenging, the waterfalls breathtaking, the portages arduous, the insects intense, and the weather severe. Every day brought new challenges and dramatic scenery. Highlights included pictographs on Missinaibi Lake, multiple moose encounters; running huge haystacks at Wavy Rapids, boulder dodging at Albany Rapids, and thunderstorms and hail at Glassy Falls. Both canoes capsized during the trip, and slips and falls on the treacherous trails were common. This was without question one of the best trips ever. This journal was written by Jim Brown.
Mississagi River, 1992
The Mississagi has a long history of use by man from the earliest hunting and fishing by native peoples through white traders and trappers of the 1700's and 1800's. Our trip was through the Mississagi Provincial Waterway Park, a portion of the route preserved for recreational use. The area remains quite beautiful and we enjoyed some excellent campsites and we were able to run most of the rapids we encountered. However, for us, the experience was somewhat marred by the incurrsions of civilization: logging roads, clearcut logging, fishing boats, ATV tracks, and overused and abused campsites. Nevertheless, this trip included episodes that we still fondly recall, including: after-dinner mints for marauding bears; the short-sheet incident; Mister Moose; the miracle outhouse, and the night black flies routed us. This journal was written by Jim Brown.
Wakami River, 1990
The Wakami was our first trip with a crew of five in two canoes. The trip was so rough, we needed a spare paddler; by the end of the trip we nearly needed a spare canoe. It began with a flat tire, threatening winds, and a thunderstorm. We experienced both snowfall and warm sunny days as we traversed beautiful lakes and rivers with numerous rapids and waterfalls and rugged portage trails. Moose encounters were frequent, human encounters rare, and the black flies and mosquitoes were relentless. Everyone endured some pain and discomfort, but no one would have wanted to miss this trip. This was Jim Brown's first journal.
White River, 1988
This early trip remains a favorite of mine. It was dramatically more challenging than our first trip, and the scenery, including Umbata Falls, was stunning. Our developing skills were severely tested by frequent boulder-strewn rapids, dangerous waterfalls, the cold waves of Lake Superior, and seemingly endless and precipitous portage trails. The trip was also replete with minor incidents we still reminisce about: the $50 bet, the sandy omelette, the grouse attack, the phantom bear on the road, the lost paddle disaster, and the big one that got away.
Sakatawi Canoe Route, 1982
This trip is the sentimental favorite, the one we still reminisce about the most. It was our first trip together; our first true wilderness excursion; and it exceeded all of our expectations. We endured chronic car troubles, inadequate equipment, foul weather, and perpetual cold, wet feet as we paddled northward from Biscotasi Lake to Horwood Lake through marshlands and logging country. Everything from the northern lights to the sound of loons at dusk was vivid and exciting to us in a way that only a first-time experience can be.