Sakatawi Canoe Route
Ontario, Canada
June 18 - 26, 1982
This trip is the sentimental favorite, the one we still reminisce about the most. It was our first trip together; our first true wilderness excursion; and it exceeded all of our expectations. We endured chronic car troubles, inadequate equipment, foul weather, and perpetual cold, wet feet as we paddled northward from Biscotasi Lake to Horwood Lake through marshlands and logging country. Everything from the northern lights to the sound of loons at dusk was vivid and exciting to us in a way that only a first-time experience can be.
Friday, June 18
Belated departure; an unhooked phone.
Rob and I left Cincinnati at 10:30 p.m. and headed north to Ypsilanti, 259 miles away. Our original plan had been to leave sometime in the afternoon or early evening, spend the night in Ypsi with Jim, and then drive all the way to Canada the next day. Unfortunately, Rob was delayed by business and a traffic jam in Louisville, so we decided to leave late, pick up Jim in the middle of the night, and drive straight through to out destination, Biscotasing, Ontario. It was also unfortunate that we were unable to contact Jim about the change of plans. His son, Peter, had left an upstairs phone off the hook.
I drove all the way so that Rob could get some rest, but he only managed to get an uncomfortable one hour nap in the back seat. We spent most of the time talking about the trip, wondering about Jim's phone, and eating trail mix, which at this point was a novelty.
Saturday, June 19
Cramped conditions; the curse of the Italian Scallion; all night drive; car trouble near Standish; an S.O.B. we will never forget or forgive; breakfast in Grayling; more car trouble; mechanical help in Thessalon; intermittent car trouble in bush country; Rob exhibits his car racing skills; stranded in a wasteland; difficult journey on logging roads to Biscotasing; belated rendezvous with Flo; setting up camp in darkness and delirium; unsatisfying late dinner.
We arrived in Ypsi at 3:33 a.m. It was raining. Jim had just gone to bed after waiting up for us most of the night. After brief introductions and a little packing, we hit the road again. The car was heavily loaded, with just enough room for Jim and me in front, and Rob squeezed uncomfortably in the back seat among the packs. We were just outside Ypsi when Rob began to complain, not about the cramped quarters, but about a disgusting odor emanating from one of the packs. Rob claimed, with some justification, that he might soon be a corpse if we didn't remove the foul smelling pack from his vicinity.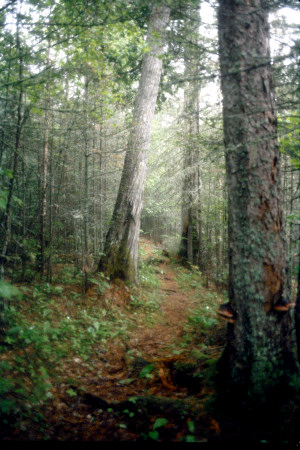 It turned out to be Jim's gear bag, a vintage Italian infantry pack which he had purchased for $8 at Harry's Army Surplus. After minimal discussion, we decided that the bag was definitely hazardous to our health, so we pulled over and condemned it to the trunk. Rob proclaimed that anything with such a memorable smell had to have an official name. He suggested "Italian Stallion," but Jim countered by saying that "scallion" seemed more like it. From that point on, even after the humor had worn off, Jim's pack was always referred to as the "Italian Scallion."
We drove northward on the interstate through the rainy night. We took turns driving and everyone got a little sleep except me. By the time the sky began to lighten up, we were beginning to congratulate ourselves on the good time we were making. We felt confident that we would easily reach Biscotasing by the 4 5 p.m. rendezvous time. Flo Woodhouse was to meet us there at that time to pick up our car. It was around 7:30 a.m. that our trouble began. The car began to miss badly while Jim was at the wheel. It lost speed and eventually stalled out altogether. It was like a nightmare. Our high spirits came down in a hurry and the creeping fear that after all those months of planning and dreaming, we might not be able to make our trip began to take hold and continued off and on throughout the day. We managed to coax the car to the nearest town, a miserable little place called Standish, Michigan. Eventually, we found a gas station where we were told a mechanic would show up at some indefinite time later in the morning. It was still raining and quite chilly, so we huddled in the car feeling sorry for ourselves and wondering what we could do. Around 8:00 a.m., the road mechanic showed up. He proved to be a very unpleasant, surly S.O.B. He replaced the fuel filter, air filter, and something in the distributor and charged us $40. We left Standish around 9:30. The car continued to run unevenly as we drove north.
In Grayling, Michigan we stopped at McDonalds for some breakfast. I was unable to eat much. I felt nauseous, probably because of tension and lack of sleep. From Grayling, I phoned Woodhouse Camp to advise Bill and Flo of our problems and that we were running late. I called them again when we arrived in Sault Ste. Marie and told Flo that the car seemed all right and that she could go ahead and leave for Bisco. Before crossing into Canada, Rob purchased a celebratory six pack.
After lunch at McDonalds on the Canadian side, we headed east on Hwy. 17. We were starting to feel confident again when car trouble started again. The engine missed badly and lost speed going up hill. Only our momentum going down hill allowed us to continue. Finally, in desperation we stopped at a Gulf station in Thessalon. To our relief, the mechanic turned out to be good, friendly and very helpful. He changed the spark plugs and checked everything out thoroughly. We were delayed for two hours in Thessalon, however, and we worried about our rendezvous with Flo and our inability to contact her.
From Thessalon we traveled north on Hwy. 129 into the real wilderness. Rob drove like a maniac to make up lost time and to relieve some of the frustration we all felt. Once again the car began missing and we made it to an isolated service station with a phone booth from which I called Bill Woodhouse to inform him of the situation. Miraculously, the car ran fine after that brief stop. The road and the terrain were not conducive to speed. There were a lot of sharp turns and extensive road construction in some sections, but we still made pretty good time thanks to Rob's race driving skills. By 8:00 p.m. we reached the turn off to Rte. 667, east to Sultan. This highway took us through an area which had been recently logged.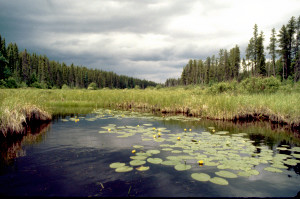 It was very unattractive and depressing. The road had a utilitarian straightness and the surrounding landscape appeared to have been bulldozed flat and replanted in unhealthy trees and unnatural scrub vegetation. It was in the middle of this scenic wonderland that the car became ill again choked, sputtered, and died. To add to our misery, fierce flies forced us to stay in the stalled car with the windows rolled up. We were bone weary and frustrated and our discussion turned to tow trucks and transportation home. We weren't sure that the car would start again, and even if it did, we didn't believe that it could make it over the rough logging roads which lay ahead.
After a short wait, we decided to try it again and were surprised when the car not only started, but ran just fine. Soon we found ourselves in Sultan, a tiny village with a rail stop and a gas pump. We gassed up and asked directions to Bisco which was still about 50 miles away by logging road. The road turned out to be much worse than we had imagined. It was a roller coaster ride, tortuously twisting around the hills or abruptly climbing over them. It was "paved" with large stones which constantly flew up against the bottom and sides of the car. It seemed unlikely that the car could withstand the kind of abuse it was taking. We also worried about getting lost because road signs were almost nonexistent and each fork in the road had to be pondered carefully. We finally passed through Ramsey, a tiny logging settlement which, like Sultan earlier, seemed almost deserted and lifeless. The land around Ramsey was devastated by recent logging. We drove on for what seemed an eternity, watching the sun go down, wondering if the car would leave us stranded in the middle of the wilderness, and hoping that Flo would still be in Biscotasing.
Around 9:00 p.m., we drove down a grade and over some railroad tracks into Bisco and ahead of us, near the water's edge, we saw the brown and yellow van which, during the long day's journey, had taken on the magnitude of the Holy Grail. We were greeted by Flo and her son who were just as relieved to see us as we were to see them. As quickly as possible, we transferred our gear from the car to the canoe and paid Flo well in excess of the original $115 agreed upon. With darkness closing in, we paddled across the lake inlet and began to set up camp on a rocky peninsula within sight of Bisco.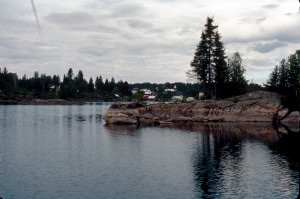 This was an unpleasant experience. It was unseasonably cold; we were tired to the point of hallucination, the mosquitoes were vicious; we had to struggle in the darkness with unfamiliar equipment and procedures. Eventually the tents were erected and some semblance of order was established. We managed to start a fire on the rocks near the water's edge and cooked steaks and corn on the cob. The corn was burned black but we washed it down with the last beers which Rob had purchased back at the Soo. We decided to postpone baking the potatoes. We finished our meal around 11:30 and collapsed on our sleeping bags by midnight. Even though I had not slept for two days, I still got up in the middle of the night to investigate a loud splash in the water nearby. I thought our food bags, which were suspended from a tree over the water, had fallen or been attacked by animals. Fortunately, it was a false alarm.
Sunday, June 20
Morning inefficiency; paddling northward on Biscotasi Lake; Rob catches a walleye; tranquil island campsite.
Around 8:00 a.m., we awoke to mostly cloudy skies and a chill in the air. We inefficiently and randomly set about our various chores: hanging a clothesline, building a fire, finding a good latrine area, cooking breakfast, and endless packing and reorganizing. For breakfast we had bagels with applebutter, freeze dried cheese omelet, freeze dried pears and fresh black forest bacon which was an immediate favorite.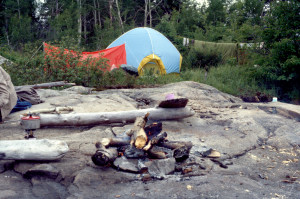 We had Tang and instant coffee this morning and every morning of the trip. Because we had not developed a routine yet, we wasted a lot of time and used an extraordinary amount of white gas cooking breakfast. By trial and error we learned the best ways to clear camp, pack up, and load the canoe. It was 11:00 before we were ready to start paddling. Jim took the bow position, I took the stern, and Rob, fishing pole in hand, occupied the center position just forward of the center thwart. These were the positions we maintained throughout the trip. My green Old Town Tripper was fully loaded from bow to stern, and a little high in the center, but it handled and balanced well.
As we paddled north on Biscotasi Lake, leaving the jinxed Pontiac and civilization behind, our spirits rose. The scenery was beautiful: forested hills and rocky shorelines with numerous inlets, coves, and islands. We were amazed by the quiet and by the fact that such a large lake seemed to be inhabited only by ourselves. The weather was constantly changing, sometimes sunny and warm, at other times cloudy and cool with occasional winds and brief showers.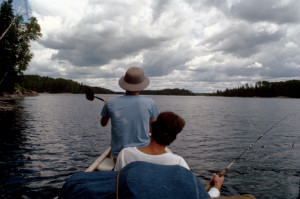 We enjoyed ourselves, paddling leisurely up the lake, stopping for lunch on a rocky island where Rob fished with no luck. Farther north we crossed an unusual sandbar stretching across a passage between mainland and island. We pried across easily and moved northward into a stiff headwind. As we passed a flat rocky island, Rob caught his first fish trolling, a small walleye. We pulled in to the island so that Rob could fish the area a bit more, and to wait out the winds. Jim and I took pictures on the island, which was covered by glacial striations and interesting flora.
After traveling about 15 miles for the day, we made camp on a very small rock island, still on Biscotasi Lake. It was about 6:30, so we had plenty of time to set up the tents (my three man tent for sleeping and Rob's $16 toy store tent for gear) and get things organized. It was a nice campsite, up high overlooking the lake.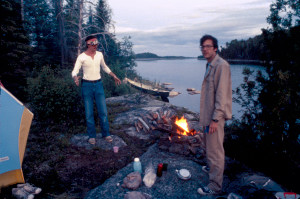 A previous camper had left us a supply of wood, a stone fire ring, and a makeshift table or drying rack. A lot of the trees on the island were dead and barely standing, so there was no shortage of firewood. We had a good supper of Rob's fried fish, freeze dried beef stew, green beans, and banana pudding. It was a beautiful clear evening; the water was glass smooth. We fished for awhile off the rocks and enjoyed the beauty and stillness. We ended the evening around the fire listening to the crying loons. We also sipped some cointreau and cognac and experimented with our echoes across the water.
Monday, June 21
Into the marsh; difficult passage; stuck in the muck; towing the canoe; lost in a cold rain; miserable conditions at Mosquito Lake; refuge in the tent.
The morning was beautiful again sunny with a few clouds. It was chilly, but gradually warmed up. Breakfast consisted of the obligatory bagels and bacon, etc. The entree was freeze-dried Mexican omelet. Our routine was beginning to develop, but it was still 10:30 before we shoved off. We headed toward the shallower tail of the lake, toward Biscotasi Creek and the marshes. Rob caught a small pike along the way, but threw it back. Having spent the previous day paddling a large open lake, we looked forward to the change of scenery offered by the winding creek. The channel was no more than 10 to 20 feet wide as we entered. It was very shallow and much swampier than we had expected. It wound in a serpentine manner through tall clump grasses and scrub bushes, and we saw numerous animal tracks, including moose, along the muddy banks. For a while we enjoyed the scenery, especially the numerous water lilies, but soon we encountered impassable shallows. At first we tried portaging our gear around the shallow area and pulling the canoe through with the bow painter. This was difficult and strenuous work because there was no path and the grass clumps provided uncertain footing, with hidden pits between. Towing the canoe with one rope presented problems as well. The canoe became stuck in the moose muck and when I went out to give it a shove, I began to sink in the stuff until it was well up on my thighs and I had to be pulled out.
It wasn't long before we realized that shallows were not going to be uncommon along this creek and that we would have to devise a more efficient means of getting through. Jim suggested that we tie two ropes to the bow of the canoe so that he and Rob could position themselves on opposite banks and pull the canoe down the channel.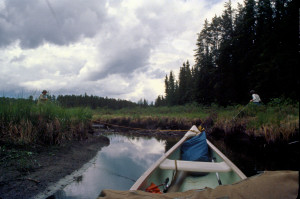 Meanwhile, I would sit in the stern of the loaded canoe and pry with my paddle. Rob and I both complimented Jim on the brilliance of his plan and we set to work. To make matters worse, the sky clouded over bringing the mosquitoes swarming. For the first time, we donned our head nets. Of necessity, we wore them for the rest of the day. Also for the first time, we encountered beaver dams over which we had to pull the loaded canoe. By this time we were accustomed to cold, wet feet. Our shoes were seldom dry during the rest of the trip.
Jim and Rob and sometimes all three of us walked the treacherous banks for two or three miles. In addition to our head nets, we had begun to apply Muskol repellant to our hands and necks. By this time the marshland had lost its appeal. We were working very hard under adverse conditions and we were making very, very slow progress. We were beginning to wonder what in the hell we had gotten ourselves into. At times, the channel became so narrow that the canoe barely fit through, and still there was no sign of a portage or the logging road which would be our major landmark. Eventually we were able to continue our journey aboard the canoe, and around 4:00, just as black storm clouds came over our heads, we came upon a yellow triangular portage sign. It was a great relief to see the sign and know that we were on the right trail and that someone else had gone through this area and survived.
We were exhausted and hungry (we had skipped lunch except for a little trail mix) and now it began to storm. The rain was very cold.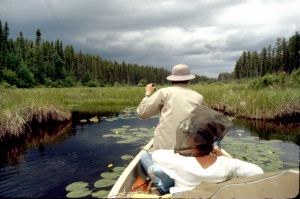 There was no discernable portage trail, but a logging road was visible ahead. There had been extensive logging along the road recently; everything was torn up, ravaged, and any sign of the trail had been obliterated. We spent the next hour wandering in the cold rain, looking for the portage trail that would take us to an unnamed lake 700 meters away. Finally, we flagged down a pickup truck with two men in it, evidently loggers returning to camp. We determined from them that the road we were on was of recent construction and that a portage sign was visible on another logging road which lay farther to the north. So we portaged over the road and along the slippery rocks of the creek and continued our journey northward through the marsh.
Eventually, the creek became too narrow to navigate and we discovered another portage sign. There was a trail here but it was poorly defined and obviously had not been used for a long time. We left our gear behind and followed the trail for about 200 meters to a logging road, the one that did appear on our maps. A sign indicated the end point of the trail onto the road, but be could find no indication of a trail continuing on the other side, the one which should lead us to the unnamed lake. For perhaps a half hour we searched up and down the road for the trail. After all we had been through that day, we were numb with weariness and frustration, but we continued with a kind of desperate determination. At last, Rob discovered a trail and became the hero of the hour.
The trail was very hard to follow. The undergrowth had overtaken much of it and fallen trees often blocked the way. Obviously it had not been used or cleared for some time. After a hike of at least 800 meters, we arrived at a miserable little mosquito infested lake. It took us two full trips down and back to bring our heavy water logged gear and the canoe up to the lake which we dubbed Mosquito Lake. By that time it was nearly 9:00 and still we had to reload the canoe and paddle around looking for an acceptable campsite. It continued to rain intermittently and everywhere we looked it was boggy and brushy and full of bugs. On one side of the lake was a small boarded up cabin which Rob wanted to appropriate, but Jim and I talked him out of it and we made camp on the opposite shore, pitching the tents on moss and lichen encrusted rocks. We were very cold and hungry, so we set about building a fire. Since all of the wood in the area was sodden, I had to fell a dead birch tree, but even that wouldn't burn.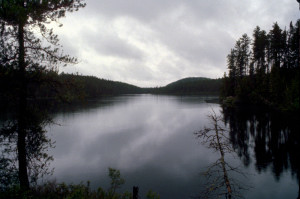 Finally, we gave up and crawled into the small utility tent and ate cold food: cheese, beef bars, Melba toast, etc.
The worst thing about this area was the mosquitoes. None of us had ever seen any thing like it before. They were in clouds, clustering around our head nets, constantly harassing us, and everywhere, the loud incessant humming sound. Urination was only possible while in motion and bowel relief was out of the question. That night, as we staggered into the sleeping tent, it was a great pleasure to have the head nets off, and we felt a primitive joy in having this shelter from a very menacing and hostile environment. And we also felt a certain pride in having overcome so many obstacles, in having endured and survived circumstances which none of us had anticipated. We fell asleep with the hostile hum of mosquitoes ringing in our ears.
Tuesday, June 22
Long and difficult morning portage; typical portage protocol; Dismal Lake; lunch on Arbutus Lake; portaging rapids along the Little Rush River; idyllic island campsite in Opeepeesway Lake; Rob melts our cups; beautiful evening with loons and northern lights.
We awoke a little stiff and sore, but inspired at the thought of leaving this dismal place. A lot of our gear was very wet, but everything seemed to be in good shape otherwise, except that Jim had lost his pith helmet and glasses holder somewhere out in the swamp. We boiled water and then retreated to the utility tent for a breakfast of coffee, oatmeal and fruit (freeze-dried), and bagels.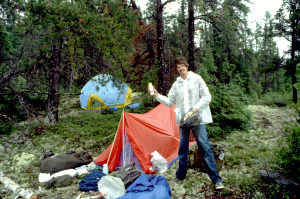 The weather continued to be dreary and the mosquitoes continued to be fierce, so we maintained our rain gear and head nets when outside. Sometime before 10:00, we canoed across the small lake and began our next portage, the longest one of the trip -about a mile and a half.
Our routine on this portage was typical of all the portages we made. On our first trip down the trail, we loaded ourselves up with gear, carried it to the end and then returned empty handed. We generally walked with Jim in the lead followed by me and then Rob because this seemed to suit our individual walking speeds best. On the second trip down, one person would carry the canoe while the other two would carry the remaining gear, one walking in front and the other behind. The canoe bearer would don one or two orange horse-collar type life vests as padding for his neck and shoulders, but eventually the yoke would dig in and adjustment, a temporary rest, or a new bearer would be required.
We were all a little surprised at how difficult the footing was on many of the trails. The hazards included loose rocks, tangled roots, fallen trees, slippery inclines, and everywhere wet slippery rocks. Perhaps the worst areas were the bogs where slippery logs served as the path and one slip resulted in wet muddy ankles. The mile and a half portage included all of these features plus another unexpected and unmapped logging road. Fortunately we were able to discover the trail's continuation after only a short delay, but the sight of the road and the destruction of the natural environment around it was a real shock to us after traveling through such a beautiful and untouched forest.
With Dismal Lake before us and the long portage trail behind us, our moods began to improve quite a bit. Dismal was a pretty little lake, bordered by reed marshes in some areas and rocky bluffs in others.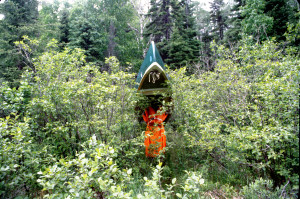 About half way across, Rob caught a pike, and shortly thereafter, we were caught in a hard rain. On the other side of the lake we entered a small marshy stream and encountered some beautifully constructed beaver dams before reaching the next portage. This one was about 300 meters long and led us to the continuation of the stream which flowed into Arbutus Lake.
Arbutus was a very long (about 3 miles), narrow lake with shallow reedy areas in some places, but nice forested hills and bluffs surrounding. When we got far enough out, we were able to escape most of the insects and were able to remove our head nets for the first time that day. The sun broke through the clouds and the sky began to clear as we drifted along relaxing and eating a snack lunch of trail mix, beef jerky, and granola bars. We had also become partial by this time to Wylers drink mix and Gatorade which made the local water look and taste better. After the claustrophobic small lakes and marshes we had just passed through, Arbutus Lake seemed like paradise. Rob soon caught a medium sized pike, but eventually decided to let it go rather that carry it over the upcoming portages.
It wasn't long before we reached the shallow northern end of the lake which flowed into a narrow but deep river called the Little Rush. The river was bordered by trees and rocks rather than marsh grass, and this gave us hope that we might at last be escaping the dreaded mosquitoes. We saw our first rapids on this river and portaged around them along the right bank for 40 meters. Although this first one wasn't much, the sound and the novelty were exciting to us. The shortness of the portage was also a relief. A little farther down the river, we had to do some scouting to find a short 130-meter portage which circumvented rapids and a small waterfall. Apparently, the portage sign had been removed. We found the remnants of a fire and campsite at the end of the portage and we considered stopping, but the area was not that attractive and the insects were still pretty bad.
The remaining stretch of the river widened out and was quite beautiful.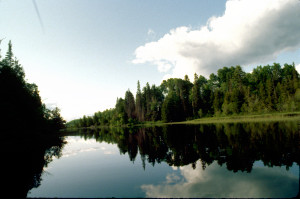 The water was perfectly smooth and sharply reflected the bordering trees and brilliant blue sky. Soon we came out into the breezy openness of the eastern arm of Opeepeesway Lake. It was the largest lake we had been on since Biscotasi and the sight was absolutely beautiful. It was about 7:30 p.m. and we desperately wanted to stop and make camp. Failing to find any trace of an established campsite shown on our map, we headed for a small wooded island situated near the center of the lake.
This turned out to be our best campsite of the whole trip. The island was almost mosquito-free, beautifully wooded, but with plenty of room for our tents and supplies and easy access to the water. Even our latrine area was comfortable, with a nice view of the lake. Since the weather was clear and dry, we established extensive clotheslines and began sorting and hanging up our sodden possessions. Next we built an elaborate stone hearth standing a foot off the ground, thus protecting the humus underneath. The hearth was built near the water's edge so that we could sit around the fire and watch the sunset across the water. Near the center of the island, we discovered an old moss covered hearth which had not been used for many years and we saw some evidence that there may have been some sort of habitation there many years ago.
As our journey progressed, each of us began to assume a particular role around the camp, to specialize in certain aspects of establishing the camp and dismantling it the next day. One of Rob's primary roles was that of "master chef." On this beautiful Tuesday' evening, for instance, he began by carefully arranging our plastic cups on the hearth by the blazing fire and melting two of them. My cup was still serviceable, but Rob's had been transformed into a new and bizarre form.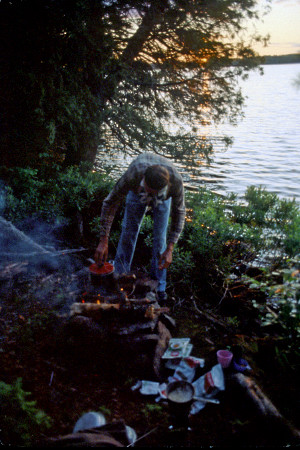 That was the soup course. Fortunately, things went much better after that and we had a wonderful feast of Chicken a la king, peas, corn and, for dessert, blueberry cobbler -all freeze dried. After dinner we sat around the fire at the water's edge talking and listening to the loons. Jim also played his recorder and the loons seemed to respond to it. Then a wonderful thing happened. Rob noticed a flickering in the sky and it turned out to be the Northern Lights which none of us had ever seen before. We were amazed and delighted. We stayed up until 12:30 watching the light show in the sky to the accompaniment of the loons. This one night made all of the hardships of the previous day worthwhile. It was a very special evening during which we all experienced the beauty and majesty of nature and felt that we were a part of it.
Wednesday, June 23
Rob catches and loses a pike; Rob's numerous equipment failures; visit to Jerome; long portage to Rae Lake; traversing the labyrinthine marsh; elevated island campsite on Mallard Lake.
We got up late and had a leisurely breakfast of freeze-dried blueberry pancakes, blueberries, and maple syrup. We watched a small pontoon plane flying low in the distance, probably dropping off some fishermen at one of the lakes to the north of us. It was overcast and a little chilly as we regretfully shoved off from our island and headed west toward the main body of Opeepeesway Lake. On the way Rob caught a nice sized pike, the largest of the trip.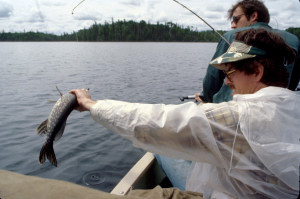 He proudly slipped the fish on his stringer and expounded upon the effect this pike would have upon our taste buds later in the day. A few minutes later both pike and stringer were gone forever as Rob had apparently forgotten to secure the stringer to the canoe.
Rob was a bit upset about this, but Jim and I thought it was pretty funny. It was the pinnacle event in a continuing saga involving Rob's problems and mishaps with his equipment. The day before, he had not only melted his cup but he had managed to accidentally burn holes in his head net with his cigarette while canoeing through the middle of skeeter country; his toy store utility tent leaked water; his rod case was too long and cumbersome to carry and the strap broke before the trip was over; his pack was bulky and extremely heavy when it got wet; his throwaway flashlight was mostly used up after two days; the wire finger saw he brought along was virtually useless; his K mart raincoat disintegrated during the course of the week; and his plastic air mattress was almost impossible to blow up and only Jim's marathon lungs could get the job done. The only thing which seemed to make it through the trip with no problems was his inexhaustible supply of jokes.
We entered the main body of the lake through a narrow channel and headed northwestward to Jerome, an abandoned mining town located on a peninsula extending into the center of the lake. Most of Jerome was located on a high bluff overlooking the lake. It was a nice view, but Jerome was a real disappointment, consisting of burned out buildings and rusted appliances and machinery. We took a few pictures and returned to the canoe. I lost a lens cap in the area but a return search was fruitless. As we headed out again, northward across the lake we saw a motorized fishing boat speeding past, probably a fly in. The wind was very strong out of the north, so Jim and I paddled on our knees all the way across and into the elongated north arm of the lake. We snacked in the canoe again for lunch, mostly eating trail mix. We had an excessive amount of trail mix with us one pound per person per day, and a different mix every day. That suited Jim just fine, but Rob and I began to grow very tired of it.
It was a long two and a half miles to the northern end of the lake where we turned east through a narrow channel into a strangely shaped cove with several slender fingers, like mini fjords.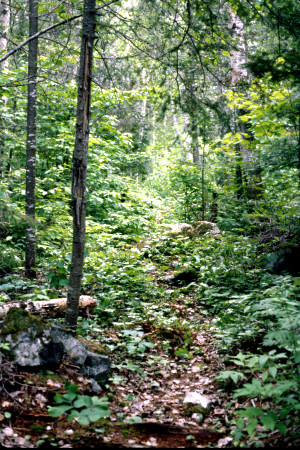 Due to a fold in the map at this point, I made an error in navigation and caused us to paddle up the wrong finger. We soon discovered the mistake, however, and a short backtrack took us to the right inlet and the beginning of our next portage. It was a portage of about 800 meters which began in a very boggy area, but then climbed uphill and crossed through an old overgrown logging road and eventually sloped down to Rae Lake. Jim was normally our most eager canoe bearer, but I decided to carry it the entire distance on this trail, just to see if I could do it. I accomplished the task, but decided that I definitely didn't want to try it again.
It was about 5:30 when we pushed off into Rae Lake. We didn't like the looks of this area; it was too low, too reminiscent of Mosquito Lake. It was getting late, though, and we were tired, so we stopped at a small island about a half mile out. The island was adequate, but not perfect. I was concerned about pushing ahead into the marshes which lay to our north and about the possibility of not finding an adequate campsite by nightfall, but we were almost a full day behind schedule, so we left the little island behind and paddled across Rae Lake.
Fortunately, the sky had cleared and the late afternoon was bright and sunny. The marsh we entered was very different from the one we had experienced along Biscotasi Creek. The water was fairly deep and the channel wound through tall green grasses with most of the soil below water.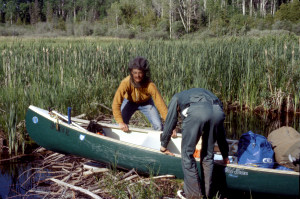 It was a very difficult passage, however, due to the numerous beaver dams. We only saw one beaver for a split second, but their handiwork (or mouthwork) was everywhere. We passed a large lodge and some smaller ones and we were constantly stopping to pull the canoe over dams. In some areas, the channel had been redirected by beaver construction and we were not always sure of which passage to take. Although it was less than a half mile through the marsh as the crow flies, it was 7:30 before we finally came out into Mallard Lake.
We paddled across to the large wooded island in the center of the lake and paddled along its western shore looking for a suitable campsite. There were very few hospitable access points, and when we finally did go ashore and climb the steep bank, we found the forest and undergrowth almost impenetrable. Despite our weariness, we were picky about our campsites, so we headed farther west to a smaller island. This island also had a brushy shoreline and steep banks, but we found a wonderful campsite above. For such a small island, it had a high elevation which made it drier and more bug free and we had a nice view of the water on two sides.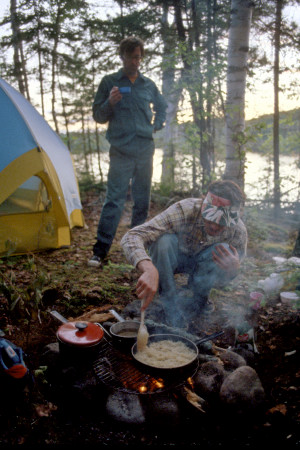 The most distinctive feature of the island was its beautiful stand of original growth white pine and white birch.
We had a nice fire that evening and Rob cooked up soup, chicken & noodles, hash browns, green beans, peas, and chocolate pudding for dessert. Afterwards, we enjoyed cognac and cointreau around the fire. We had a serious discussion that evening about our schedule and about the route ahead. Our decision was to rise the next day at 7:00 and push hard for the final two days.
Thursday, June 24
Another day, another marsh; Marion Lake; high winds on Rush Lake; paddling and portaging on Rush River; lunch beside the rapids; conjunction with the Woman River; 200-meter portage around a waterfall; beautiful 500-meter portage trail around a gorge; Rob catches a sizable walleye; running a significant rapid; exhausting portage around Horwood Falls; Jim takes a dive; cold, wet camp at trail's end.
It was mostly overcast and chilly the next morning. We ate a light breakfast of coffee, oatmeal and fruit and packed up as quickly as possible. We set out across Mallard Lake and headed into another winding marsh. We were dreading this passage because it appeared to be more that twice as long as yesterday's marsh according to the map. We were pleasantly surprised to find it fairly easy going and relatively free of beaver dams. The stream eventually took us into Marion Lake, another small, shallow, reedy body of water. It didn't take us long to traverse the lake and another short marsh which led to Rush Lake, a beautiful lake somewhat larger than Opeepeesway.
There was a strong northwesterly wind blowing across Rush take so we hugged the shore of a large peninsula on our port side. The shore here was beautiful with flat sand beaches bordered by tall stands of white birch. Finally we had to leave the protection of the peninsula and head across the lake towards the entrance to the Rush River.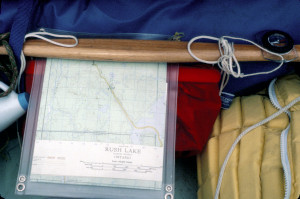 Because of the wind, we were forced to tack, which slowed our forward progress. We landed at a rocky point at the entrance to the Rush River and investigated an established campsite there. We discovered the remains of a campfire there as well as some trash, including a skin magazine discovered by Rob which featured a nude woman riding on a pig. We rested for a while on the point which was really very pleasant and scenic except for the trash. After traveling through so much pristine wilderness, it disturbed us to encounter this evidence of civilization which we had been trying to escape.
We had been looking forward to the Rush River as possibly the highlight of the trip, and we were not disappointed. At first the river was rather wide, like an elongated lake, bordered by huge boulders and heavily forested bluffs, but it gradually narrowed and became even more interesting. Before long, we came to the first portage which was about 100 meters long and took us around several rapids and short falls. It had become more overcast as the day progressed and the mosquitoes were out in force on the trail necessitating a return to head nets. At the end of the portage, we swung the canoe out into the broad pool below the rapids to view the rushing water which cascaded through a narrow gorge bordered closely by the forest.
With the exception of the rapids and falls, the river had very little current and required as much energy to paddle as had the lakes. But, we didn't have to paddle far before we reached another portage. A light rain began as we unloaded the canoe at the head of the short 30-meter portage.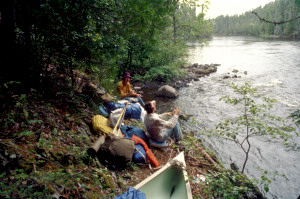 It was a nice little trail running alongside a powerful rapid and we decided to stop and have lunch at the end. It was a typical lunch of melba toast, cheese, peanut butter, beef jerky, trail mix, and granola bars. Although it continued to sprinkle and the mosquitoes were a problem, we enjoyed sitting there listening to the rushing water and looking ahead down the beautiful river.
Soon we pushed off and ran the lower and safer part of the rapids and made our way down river past the conjunction of the Woman River. The next portage was only about a mile and a half on the port side. It took us about 200 meters around rapids and falls which we could hear off to our right as we hiked down the trail. The trail ended on a rock outcropping overlooking a very large pool. It was raining steadily by this time, but that didn't stop us from wandering around on the rocks to view the river cascading over a wide shelf and churning its way down into the pool. We took several pictures and enjoyed being near the loud and powerful water.
We carefully loaded and boarded the canoe from the slippery rocks and paddled across the pool and into the narrowing channel. We ran two short rapids or "swift narrows," as the map termed them, through an "S" shaped ravine. The swift and turbulent water was a nice change of pace.
Our next portage, which was less than a half mile away, was the most beautiful trail we experienced. It took us 500 meters through virgin forest, huge original growth trees with a rich undergrowth of ferns and flowers. Much of the trail was carpeted with thick humus interrupted by ancient tree roots. The quiet of the forest was punctuated by the nearby roar of water. On the way back from our first trip down the trail, I couldn't resist wandering off the trail to view the rushing water.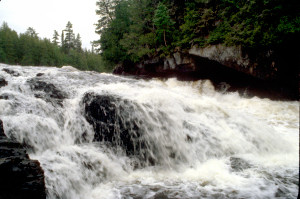 It was a spectacular sight: the fast water churning through a narrow rocky gorge with the forest encroaching to the very edge. A while later I brought Jim back to the gorge and we spent considerable time climbing around on the slippery rocks, taking pictures, totally entranced by the spectacle. Meanwhile, Rob was back on the trail equally entranced by the beauty there and trying to capture it on film. It was an amazing experience to find such imposing natural treasures with no nearby parking lots, no asphalt access trails, no safety railings, no trash, and no people besides ourselves.
The rain was continuous and we were getting cold and tired. Nevertheless, we paddled out below the gorge to view the sight once again from a different angle. In this pool below the falls, Rob hooked into a four- or five-pound walleye, the biggest in his fishing career. It was a beautiful fish and we all looked forward to eating it.
Less than a half mile down the river, we encountered a long rapid which, according to our pamphlet, could be run with difficulty. Because the water was very fast and the boulders treacherous, I scouted the rapid down river on foot. It seemed to be a fairly straight shot, so we lined the canoe up and shot through. We took water over the bow and center gunwales, but it was a good thrill ride and well worth the icy bath suffered by Jim and Rob.
We didn't reach the final portage on the river until 7:00 p.m. It proved to be the most arduous and unappealing of the day. The first stretch of 200 meters was mostly an excruciating up hill climb followed by a short slippery descent to a narrow murky mosquito infested stream. We reloaded the canoe and began to make our way along the winding stream but we encountered numerous roadblocks, primarily fallen trees and debris. Finally, we could go no further and I climbed up the muddy bank and explored for a trail. Eventually, I discovered an ill defined auxiliary trail, obviously worn by frustrated canoeists like ourselves. The trail led to an old abandoned logging camp where the second leg of the portage was supposed to start. I returned to the canoe and we began what turned out to be a half mile trek through wet foliage and high grass. The last part was a 100-yard killer up hill climb followed by a muddy 100-yard descent to the water. On our second trip down the trail, we decided to slide the canoe down the hill on the mud and during the course of this endeavor, Jim, after assuring Rob that he "had it," took a rather spectacular fall into the canoe.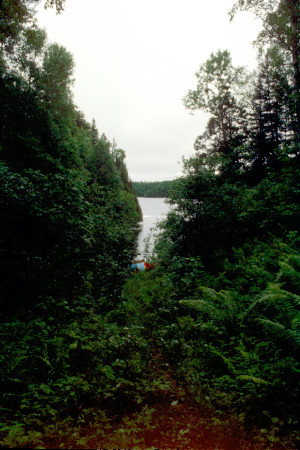 Rob found this particularly funny, although Jim failed to see the humor in it.
Do to the lateness and our physical exhaustion, we were forced to make camp at the bottom of the trail, on a flat grassy area at the at the water's edge. The portage had been around a series of rapids and falls culminating in Horwood Falls. From our camp, we could see the roiling waters below the falls and we could hear the tumbling water. It continued to rain, the mosquitoes were bad, and it began to get very cold. We had to fight off the weariness and numbness, to force ourselves to set up camp and to rig a makeshift tarp as shelter for cooking. In the darkness and rain, with only a small flashlight and a candle lantern to aid us, we sat shivering and miserable around the one burner stove and cooked Rob's walleye, beef stroganoff, and green beans, followed by cointreau. The fresh fried fish and the cointreau were the highlights of the evening.
After dinner, we trudged back up the trail, lighting our way with the candle lantern and hung the food bag from a fallen tree which formed an arch over the trail. Walking in single file, with the candle swinging and flickering, we joked about the similarity to a funeral procession. It was very late and very cold when we crawled into the tent and fell asleep listening to the waterfall in the distance and the mosquitoes close at hand.
Friday, June 25
Day-long paddle up Horwood Lake against strong winds; increasing signs of civilization; Groundhog Lake; accommodations at Woodhouse Camp.
We got up at 8:15 on a chilly morning and breakfasted on bacon, Mexican omelet, and bagels. By 10:30 we were on the water and headed for Horwood Falls where we took a few pictures and then stowed our cameras for the rest of the day. It was overcast with very strong northerly winds and high waves. We had to fight the wind and waves all day long, the entire 29 miles to Woodhouse Camp.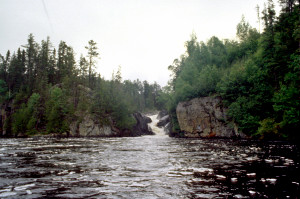 We paddled hard and long, in a kneeling position, stopping occasionally behind an island or peninsula for relief from the wind. This was Horwood Lake, the largest lake of all, and there was very little to obstruct the wind blowing from north to south down the length of the lake. The farther north we paddled, the more signs of civilization we encountered. It began with fishing outpost camps, followed by isolated summer cabins, and then groups of cabins and powerboats, and finally a small settlement near the dam. It was a beautiful lake with hills along the shoreline, rocky peninsulas, and numerous islands, but our main objective was to make time rather than sightsee. Our energies were totally devoted to propelling the canoe forward and keeping it headed into the wind. Navigation was also tricky with all the islands and inlets, and I had to keep a constant eye on compass and map.
We stopped for lunch on a narrow rocky peninsula. This spot, like others we saw on the lake, had evidence of a campsite and a lot of garbage left behind. Much farther up the lake, we stopped to rest on a beautiful peninsular campsite which had been grossly overused, garbage strewn about, felled trees, and an open latrine.
The only other memorable sight on Horwood Lake was an abandoned mine, but no one bothered to take a picture. As the cabins and powerboats became more common, our only intent was to reach our destination. It was a long haul past the Marsh Islands and across the widest part of the lake, but at last we found ourselves in the channel heading towards the marina and the dam separating Horwood Lake from Groundhog Lake. By 7:00 we had portaged around the dam and Rob caught his first fish of the day in the small river there, a small throwaway pike.
We canoed across Groundhog Lake, around Kichi Island, and northward into the channel of the Groundhog River. By 8:30 p.m., we had reached the dock at Woodhouse Camp. We were greeted by the young Woodhouse boys, the black retriever named Trapper, and by Flo herself. Flo and Bill invited us into the lodge and served us beer as we incoherently tried to describe our adventures.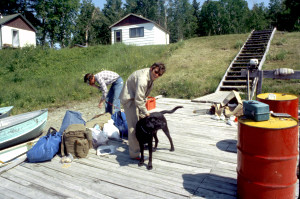 Jim and I were pretty knocked out from the long paddle, so Rob took over most of the social responsibilities. He purchased a supply of beer from the Woodhouses, arranged for a free cabin, and paid the boys to carry some of the packs up for us. The arrangement was that we could stay in the cabin as long as we used our sleeping bags instead of the bedding. So we retired to our cabin which featured two bedrooms, a kitchen dining area, and a. bathroom with a real flush toilet. For supper we prepared freeze dried chili and corn, and we finally baked the potatoes which we had carried with us from the beginning. Everything was washed down with beer, of course. Sleep came easily that night.
Saturday, June 26
The bathhouse; back on the road; lunch at the Soo; summation.
We got up, greatly rested, around 8:00. For breakfast we had bacon (getting a little rank), eggs (freeze dried), bagels, and fried potatoes made from the baked potatoes of the previous night. The highlight of the morning was our excursion to the bathhouse. The bathhouse was a small white building a few yards behind the cabins which sported moose antlers over the door. The bathhouse had two shower stalls, but not much hot water. Rob had a hot shower; I had a warm shower; and Jim had a chilly shower.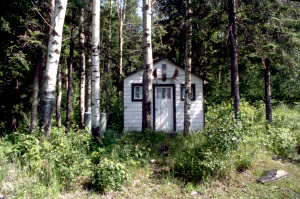 Still, the soap and shampoo did us a lot of good.
By the time we had cleaned up, packed our bags, and said our goodbyes, it was late morning. We loaded our canoe for the last time and headed across the river to where our car was parked. It was a bright, sunny day finally.
The long drive back was fairly uneventful. The car continued to sputter and it stalled once or twice, but we kept going. Whenever he got a chance, Rob bought junk food. He had a particular fondness for red licorice. We stopped for lunch at the Soo, on the U.S.A. side of the border. It was a Big Boy restaurant and we all ordered the salad bar and made phone calls home.
We relived the trip a hundred times as we drove southward. We were very pleased with the trip and with ourselves. Even the terrible times like the evening on Mosquito Lake had added immeasurably to the richness of the experience. The most gratifying thing was that we had gotten along well together through all of it. We had tolerated each other's foibles and encouraged each other's strengths, and now, as we took the long road home,we were still friends, and we were the only ones who would ever know what it was really like out there.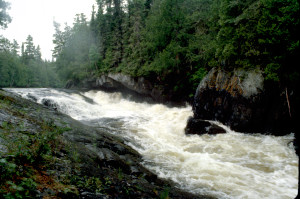 L. Walter
July, 1982