Okefenokee Swamp, Georgia
February 20 - 26, 1999
This journal was written by my youngest son, Chris, when he was 12 years old. I did not keep a journal because much of the trip was documented by videotape. The trip through the swamp spanned 5 days and 4 nights. On three nights we camped on wooden platforms raised above the water and beyond the reach of alligators. The fourth night was spent on an island teeming with wildlife accustomed to human incursion. It was very cold--below freezing on several nights.
Day 1: Car Ride 2-20-99
We have now left the house. It is 10:12 AM. I am doing my homework. The worksheet is the linking verb sheet. I did all my reading the other night because I get carsick.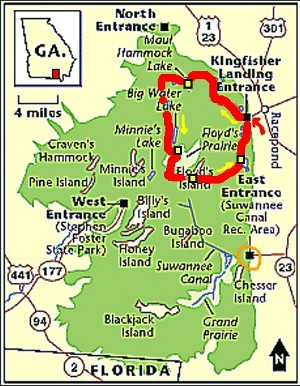 I also did all three quizzes. Now I have to get back to my homework. Only about 780 miles to go, 15 hours! -Chris
We are now in Kentucky. It is 10:38 AM. I have finished almost all my homework, except for my writing project and some social studies work. I am tired. I went to sleep very late because I was packing for the trip. Now I have to work some more. -Chris
It is now 1:04 PM. I was playing game boy for awhile. We stopped for lunch at Wendy's. I ordered a five piece chicken nugget, a small fries, and a medium sized Dr. Pepper. After we left we went to fill up on gas. Right now I'm going to play game boy some more. Then do the rest of my homework. -Chris
It is 2:15 PM. We have just entered Tennessee. I have been playing game boy the whole time. Well I want to play some more. -Chris
It is 4:45 PM. We were at a gas station a little while. I got two bags of combos for a snack. We have just entered Georgia. I hope we get to the hotel soon. -Chris
It is now about 8:00 PM. We stopped for a hotel called Hampton Inn. We are going to eat dinner soon. -Chris
It is now 10:00 PM. About 30 minutes after we got back from Cracker Barrel where we had dinner. I had popcorn shrimp and three milks. Right now we are in Macon, Georgia. I am watching basketball in the hotel. This day is over, but tomorrow we still have four hours of driving to do. I will finish up my social studies homework. -Chris
Day 2: 2-21-99
It is 8:35 AM. We just got back from breakfast. I had cereal and a donut. Pretty soon we will leave and start driving again. Right now we are watching the weather channel. -Chris
It is 9:19 AM. I finished with my homework, except for one page that I didn't do, but can't because there's another paper I need for it. I will now sit around.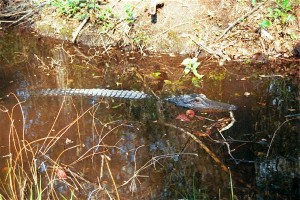 I hope we get there soon. -Chris
It is 1:55 PM. About an hour ago we went to Shoney's for lunch. I had a burger and fries. After that we went to the Okefenokee Swamp Park. I bought an alligator head. Right now we're driving. We are in Waycross, Georgia. -Chris
It is 5:03 PM. We were driving down a nature drive when I saw an alligator! Our first of the trip! I took two pictures of it. Then we went to a boardwalk. It took about an hour and 8 minutes. Now my feet hurt. -Chris
It is supper. I had beef stew and fruit. We had our first and last fire too. It didn't last long. I gathered lots of pinecones. I went to sleep at 9:00 PM. I was tired. -Chris
Day 3: 2-22-99
It is 9:04 AM right now. I would be on the school bus right now, but instead I am freezing and working hard. I kept waking up in the middle of the night because I was so cold. To make it worse, when we woke up in the morning I had to clean my dishes from last night. I had a hard time packing my bag. I couldn't feel my hands. It is below freezing, but it is getting better. We are going to leave soon and start canoeing. I hope it gets warmer. -Chris
It is 5:45 PM. We canoed all day.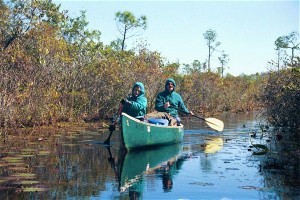 I saw lots of fish, but no alligators. We are now on a platform in Maul Hammock. We paddled for 12 miles to the platform. I got sunburn. I saw a ton of lily pads. I also saw a lot of birds. One dove into a lake looking for fish. There is a bird here right now who keeps coming near the platform. I am tired. I am also a little cold. We can't have a fire though tonight. -Chris
Tonight for dinner I had Mexican style chicken and rice and corn. There was nothing to do so we just walked around on deck looking at stars. Jim Douglas went to sleep early. Then we played cards. It was funny because we couldn't see our cards. At night I heard birds. -Chris
Day 4: 2-23-99
7:19 AM. When I woke up I heard a raccoon in the water. We came out of the tent, but all we heard were noises of the raccoon running into the woods. Then the same little bird came on the deck. He walked around a while, and then jumped into the water. Then I saw a little bird dive down, but quickly come up so it didn't hit the water. In a while we will have breakfast. -Chris
Tonight for dinner I had chili mac with beef. It was good. Today was the best day so far. First we had lunch at a little shack. There were tons of carvings. I carved my name and wrote "Chris was here with Jim, Jim, and Larry 2-23-99. Then we were paddling through a real narrow passage. We kept hitting bushes. It was fun. Then there was a tree that fell across the path.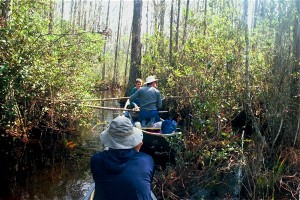 We could not go on. So, we cut it down and took it as fire wood. I helped with one of the saws in my knife. Then when we were almost at our shelter I spotted another alligator. It was the second one I saw. I got some great pictures of it because I was about one foot away from it. Another thing that happened was I cut myself with one of my three knives. It was pretty deep and I bled all over the platform. My hands were all bloody. It was a great day. -Chris
Day 5: 2-24-99
I slept great except when I woke up because it was raining so hard. I got up at 8:00 AM and went to sleep at 8:53 PM. I got 11 hours and 7 minutes of sleep. For breakfast I had four breakfast bars. I have packed all my bags now. We will leave soon. -Chris
It was funny tonight and during the day. When we arrived at Floyd's Island a raccoon came right up to us. The people before us probably fed him. He kept coming back. Then another one came and I chased it up a tree. What I did was stand still when he looked at me. He tried to smell me but was too far away. He came closer and closer until he was right on my foot. He smelled me, looked up at me really scared looking then ran away as fast as he could.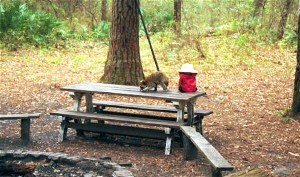 Later Jim, Jim, my dad, and I went following a track in the woods. We walked about 7/8 of a mile then it looked like we walked into Hawaii. There was sand everywhere. Then we saw a block of white stone. We lifted it up and we found money, chocolate, a note, and advertisements. The note started out with "We were here, you were not." It was weird. When we were making supper I saw a deer. I followed him and got really close. He thought I was a tree because I was wearing green. He looked behind me, so I looked behind me and saw four more deer! I took some pictures of them. At night we were under attack. There were raccoons everywhere. Well it seemed like it. There were only three. One went for our garbage bag once everyone went inside. I quickly ran after him and stepped on the bag. The raccoons even knew how to open doors. One ran up to the cabin door to open it. He went on his back legs. Luckily we had a table blocking the door. They kept attacking though. They went all over the deck looking for stuff. We had put everything inside though. When we went to sleep we locked the door and hung all our packs in the air. There were mice in the cabin. It was also freezing in the cabin. My zipper got stuck on my sleeping bag. I was very cold. -Chris
Day 6: 2-25-99
It is 9:03 AM. Today we have to paddle nine miles. Right now I am going to eat breakfast. My bags are packed. -Chris
After I ate breakfast we saw some deer. I went after them and got really close. I was about two feet away from one. He was staring right at me. The paddling was hard today. There were tons of twists and turns. I got hit in the face with a lot of sticks. Our canoe got really dirty. For dinner we had chicken al la king with peas and carrots. The chicken was great! It was the best dinner I had had on the trip. The peas and carrots were terrible. I threw mine in the outhouse. For desert we had frozen ice cream bars. They were good. After that some planes flew down really close to us. It was the loudest thing I had ever heard.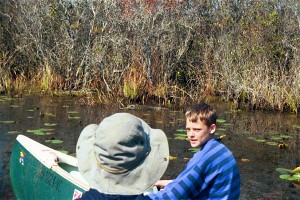 Then we went to sleep. -Chris
Day 7: 2-26-99
Today is the last day of canoeing! I woke up at 7:00 AM for breakfast. I had granola with blueberries. My bags are already packed. We have 6.2 miles to go I think. -Chris
It is 1:48 PM. We are off the water! It is about 77 degrees outside. We saw five more alligators! Altogether we saw seven gators. We saw a lot of animals on the trip. We finished at about 1:25 PM. I had a GREAT TRIP! -Chris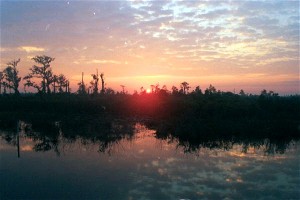 Chris Walter, Age 12
February, 1999