Groundhog River, Ontario, Canada
June, 1998
Jim Brown kept contemporaneous notes on the Groundhog River canoe trip, but he never completed a journal. I prepared this summary from his notes, my photographs, maps, and memories. The trip featured some of the most beautiful and exhilarating rapids we ever ran, plus an abundance of wildlife. As usual, Rob and Jim accompanied me, plus my son Brent. For the first five days, the river was wild and full of surprises. During the final two days, as we neared the dam, the current lapsed and the Groundhog became a sluggish semi-lake. I have received more inquiries about the Groundhog River than any other route I have posted on this web site. I hope this summary will be helpful to those planning their own trip, but please bear in mind that my trip took place a decade ago and a lot can change in that time.
Saturday, June 27
The trip north; visit to the garbage dump; the outfitter shuttle; portage around Upper Falls; a very long 80-meter portage; campsite on a rocky ledge.
This trip included my usual cohorts, Jim and Rob, plus my son Brent who was now seasoned after last year's Steel River trip and had developed excellent whitewater skills. Brent, Rob, and I departed the Cincinnati area late on Friday in my Toyota Previa, arriving in Brighton, Michigan to pick up Jim around 11:00 p.m. We managed to get Jim's canoe and gear loaded expeditiously and headed north again just after midnight.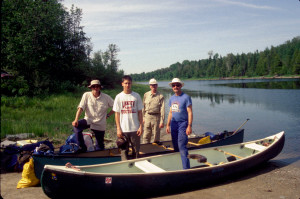 Jim drove through the night until we reached Grayling for a fuel stop. Rob then took the wheel as we continued on through northern Michigan, across into Ontario at Sault Ste. Marie, and along Highway 17 east to Thessalon. We cruised around Thessalon at 6:15 in the morning looking for an open eating establishment, but to no avail. Finally, we decided to drive the short distance back to the Carolyn Beach Motel, one of our favorite breakfast spots from prior years. We waited there in the parking lot until it opened at 7:00.
After breakfast, we stopped at a nearby Outfitter Supply Store for gas. Rob, ever optimistic, purchased a fishing license as well. It was also about this time that Jim discovered to his great consternation that he had failed to pack his mesh bug suit, a near-essential item during black fly season in the bush. Although Jim was quite distressed by this loss, Rob and I found it commensurately entertaining.
Our route continued northward on Highway 129 to Chapleau and then beyond on gravel roads to Missinaibi Headwaters Outfitters which was located on Racine Lake. Although we were all sleep-deprived, we took a short detour to a local dump where we watched a couple of black bears forage through the garbage. After taking a few photographs from the safety of our vehicle, we continued on to the outfitter and ultimately arrived around 11:30 a.m.
The arrangement was for the outfitter to drive us in our vehicle to the put-in spot and then pick us up at the take-out at an agreed time. Our driver, "Mike," was out collecting trash from the camping area, so we waited around the office for awhile. Brent and Jim purchased state of the art bug jackets, and we filled our water containers from the well in the nearby camping area. After completing the paperwork and doing a little rearranging in the van, we set off with Mike toward the put-in around 2:00 p.m. Given the scarcity of space in the vehicle with another passenger aboard, Brent had to sprawl on top of the gear piled in the back.
After stopping for lunch at a KFC/Pizza Hut outside Chapleau, we drove northeastward on Highway 101. It was roughly a 75-mile trip past Foleyet to a point where the highway intersected the Groundhog River. River access was on the north (down stream) side of the highway before crossing the bridge. We quickly unloaded, took a few photographs, and began loading the canoes as Mike drove the van away. It was a beautiful, warm, and sunny afternoon. We pushed out into the current of the Groundhog at 4:30 p.m.
We passed a fishing camp on the left shore and soon came to our first portage on the left around the "Upper Falls." It was a 200 meter portage through the woods and the insects were vicious enough to incite us to reach for repellant and head nets. At the end of the portage, on the rocks at the low falls, we encountered some fishermen who were catching pike. Rob and Jim spoke with them and then went off to explore a trail that appeared to go from the falls back to a fishing camp while Brent and I portaged the remaining gear.
Soon after reloading and embarking, we came to the next portage on the left side of the river. This trail, which was exceptionally marshy at the beginning, was supposed to be 80 meters long. However, it soon became evident that it was much longer. At about 200 meters, Rob and Brent put down their loads and walked to the end of the trail to reconnoiter.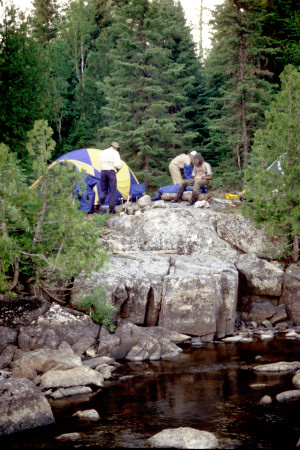 Obviously, the 80 meter trail had merged with the subsequent 550 meter portage. This was not particularly welcome news because we were utterly exhausted and really wanted to camp soon. Fortunately, I found a reasonably good campsite at about 400 meters on a rocky ledge overlooking a boulder-filled portion of the river. We completed the portage to that point fire brigade style, with Jim making as many as nine trips between the beginning of the trail and the 200-meter mid-point.
We began setting up our camp around 7:00 as the sky began to grow cloudy. Given the rocky nature of our campsite, with little more than patches of lichens and moss for ground cover, we resorted to tying the tents to rocks rather than staking them down. To save time, we cooked dinner on the camp stove. Our first meal consisted of chili tortilla pie, corn and chocolate cherry mousse pie—all freeze-dried, of course. We cleaned up as quickly as possible, placed the food packs out on the rocks in the river, and repaired to our tents. Despite the hard, uneven surface, we all seemed to sleep well due to extreme fatigue.
Sunday, June 28
Late start; more fishermen; 750-meter portage; moose mother and calf; lining some rapids; portage across a narrow peninsula; trashy fishermen's camp; brushy and buggy campsite.
We woke around 8:30 a.m. to a cloudy, humid day. The mosquitoes were still bad, but no black flies were evident. As is usually the case on the first morning of a trip, it took us awhile to establish our routine and get things organized, so we did not break camp until 11:00 a.m. We completed the portage and set off down the river again.
We soon approached the next rapids with a 100-meter portage on the left, but were able to run the rapids without difficulty. At this point, the river widened into a small lake where we saw a number of fishing boats. We noticed four shirtless guys on the left bank who were either anticipating a warm day or perhaps planning to take a swim. The river narrowed again at the end of the short lake where it steeply dropped into some rapids that we could not run. The 750-meter portage was on the right side. During the portage, it began to rain.
The trail ended in a grassy area that might have served as a campsite. We were getting hungry, but pushed out in our canoes to get away from the bugs. Along this stretch of the river we encountered a mother moose and her calf. We had enough time to take a few photos before they scampered into the woods.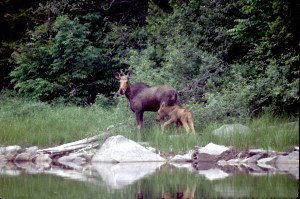 Around 4:30 p.m., we stopped to eat our lunch in the canoes, before tackling the next portage around a significant rocky drop. As it turned out, we were able to avoid taking the 100 meter portage by lining and walking the canoes through the rocks along the left shore.
Our next portage was on the right, 100 meters across a narrow peninsula formed by the river bend. The trail went up over a ridge on which there was a muddy access road. There was a campsite here that had clearly been used and misused by fishermen. It was very trashy and did not appeal to us for that reason. Although it was getting late, we all agreed that we did not want to stay in this unattractive spot, so we loaded up and pushed on.
We finally found a suitable spot back in the trees and brush along the right bank. It was a bit overgrown and brushy, but we were able to clear and level enough space for the tents. Bug suits, head nets, and repellant were popular accessories in that environment. We strategically placed some Pic repellant around the area we intended to use as our kitchen. We used my camp stove to boil water for dinner. Jim's stove was not operable. Because it was so late, we skipped dessert on this evening. As usual, we were pretty beat and just wanted to crawl in the tents to escape the insects and get some much needed rest.
Monday, June 29
Running and lining shallow rocky rapids; rain storms; beautiful island campsite; the Kamikaze Cook.
We crawled out of the tents around 9:00 a.m. to blue skies, sun, a pleasant breeze, and a multitude of mosquitoes. It took us until 11:30 to break camp.
We reached a stretch of significant rapids within an hour. There was a 400-meter portage trail on the right side, but we weren't in the mood for a long morning portage. Brent and I scouted the shallow rocky rapids looking for a path through the maze of boulders and rock shelves. Satisfied that we could negotiate it, we pushed out into the swift current and zigzagged our way through while Jim took photos of us.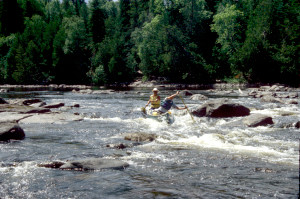 About half way through the run, we pulled into an eddy on the left side and did some more scouting. We signaled to Rob and Jim that the way was clear for them to line and/or walk along the left side of the river. They proceeded to do so and Brent picked his way back through the rocks to assist them while I photographed the proceedings. It was a fairly difficult undertaking due to the slipper footing, differing water depths, and jumbled rocks to circumvent. There was considerable scraping of the canoe over the rocks in the process. We were all able to paddle the balance of the rapids from that point.
While we were busy getting through the rock garden, dark clouds had built up in the sky. By 2:00 p.m., a major deluge hit us and we donned our rain gear. Thereafter, we paddled and drifted along, having a brief snack, but never stopping for lunch. We watched as a huge storm approached up the river, but fortunately, it missed us. We endured a few light showers and could hear thunder booming from the nearby storm.
We reached our third campsite around 5:00 p.m. It was a bit early for us to stop considering how late we had embarked, but we had planned in advance to stop at this small island just above a logging bridge. It was at the start of Six Mile Rapids which we did not particularly want to tackle at the end of the day and we were also concerned about the threat of more storms. It was actually, a very nice campsite with water rushing by on both sides of the tiny island, although the landing was a bit tricky in the current. There was plenty of level space for both tents and a pretty good fire ring surrounded by trees near the water. The only downside was that logging trucks passed over the nearby bridge about every 15 minutes, but that soon ended.
We quickly set up our tents and then put up a tarp over the "kitchen" area in anticipation of more rain. We then ate snacks to compensate for skipping lunch before gathering firewood, filtering water, and setting out to do all the other myriad things attendant to settling a camp and making dinner. Rob proclaimed that this night he would be the chef and would prepare a special home-cooked meal. As he wildly manipulated pots over the fire while wearing his black Nike sweatband, I dubbed him the "Kamikaze Cook." The end result of his exertions was mixed. The angel hair pasta with olive oil and garlic was quite good, but the Jamaican chicken and the cheesecake were very soupy and most of it was thrown away.
The threatened rain did not arrive to spoil our evening. We were able to sit out by the fire until about 10:00 before weariness got the better of us. There were a few light sprinkles overnight.
Tuesday, June 30
Running the rapids beside the island; running and lining the ledges and rapids of Six Mile Rapids; lunch on a high granite outcrop; more rocky rapids; running a big ledge; camp at the confluence of the Ivanhoe River.
It was cool but sunny in the morning. We were looking forward to running the rapids flowing to the right side of the island that we had been listening to throughout our stay. We could scout the rapids reasonably well from the island. The river flowed down precipitously over some rocks directly into a foaming maelstrom caused by the convergence of the river flowing from the left around the other side of the island. The trick was that we would need to make a sharp right turn at the bottom of the chute to avoid hitting the embankment dead ahead and, of course, it was difficult to tell how the canoe would respond when broadsided from the left while trying to make a tight right turn in highly aerated water.
Brent and I went first while Jim crouched on the rocky shore of the island with his camera. It was a fun ride and we bumped a few rocks, but had a surprisingly easy time turning right and then making an eddy turn just before the bridge. From there, we hopped out on the rocks to view and photograph Jim and Rob who likewise made it through without mishap.
We were now on our way through Six Mile Rapids which was a great stretch of rocky mostly class II and III rapids.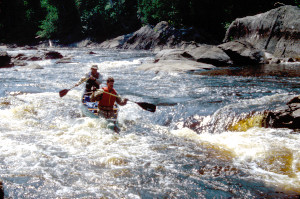 Initially, we encountered some steep ledges that necessitated lining along the left shore. Then we came upon a technical stretch that required an intermediate eddy turn between two massive boulders to reconnoiter before completing the run. This was an exhilarating run as the river rushed through two narrow chutes surrounding by huge boulders. Lining or portaging would have been difficult in this section, so it was fortunate that we were up to the paddling challenge.
We ran a few more class I sections before arriving at a significant ledge. A very prominent and high granite outcrop was to the right and it provided a convenient dock for the canoes, and, from the top, a panoramic view of the very rocky rapids down stream. Given the warm sunny weather and this idyllic setting, we decided to stop here for awhile. We had lunch on top of the outcrop enjoying the sun and the exceptional view. Rob and Brent even did some fishing but had no luck. We also considered whether to take the 400-meter portage around the rock garden or try to run through it. Although it was a bit of a challenge to find an unobstructed path through the rocks, we were able to pick our way through successfully.
A little farther down river we encountered another significant ledge with a drop of perhaps 4 or 5 feet. We stopped on the rocks to scout. There was one break in the ledge, but it was fairly narrow and precipitous and there were obviously some rocks hidden in the turbulent water. I studied this situation with some seriousness. Although in some respects, it looked like a straightforward run, I knew there was some risk in the hidden rocks and turbulent aerated water we would be plunging into. With a loaded canoe in the middle of nowhere, this situation approached the limit of risk I was normally willing to take. However, I felt certain that Brent and I could make it through. We paddled upstream a ways to get lined up, then paddled forward into the chute.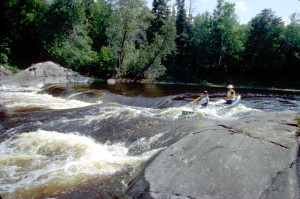 We hit the chute pretty well, perhaps a little too far to the left, were jolted as we hit a submerged rock, but otherwise shot through unscathed. Jim and Rob, who had been watching our attempt with keen interest, opted to line their canoe along the left bank rather than risk a capsize.
Fortunately, the river calmed down at this point and the remaining miles to our anticipated campsite were uneventful. We were pretty tired when we finally reached the confluence of the Ivanhoe River. The campsite was at the top of a high embankment located on the narrow triangular peninsula formed by the conjunction of the two rivers. There was a sandbar at the base for landing the canoes, but all the gear had to be hauled up the steep bank to the flat camping area above. Brent rigged up a rope to assist us with the climb. It was a good site with a great view down river. After darkness had fallen, Brent and I paddled out to filter some water and I took a couple of photos of the camp with just the campfire visible against the black woods.
Wednesday, July 1
Flat water paddling; encounter with a floating meat tray; lunch on flat rocks; moose calf; another moose; difficulty finding a suitable campsite; makeshift campsite in the brush.
The next morning we were greeted by sunshine once again. We were a bit weary from the challenges of yesterday and were looking forward to some flat water paddling. That is mostly what we encountered on this day, other than a few easy rapids. Late in the morning, we had a strange encounter with a floating meat tray anchored in mid-stream. We speculated that this meat might be bear bait "curing" in the sun out where animals could not disturb it. It was an unexpected and unprecedented experience for us.
Around 1:00 p.m. we made landing on some interconnected flat rocks.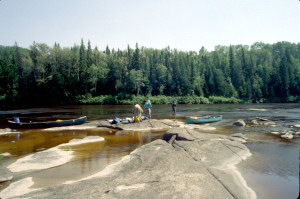 It appeared to be an extensive rock shelf extending half way across the river. It was mostly submerged but provided a maze-like pattern of dry flat spaces to explore. We had our lunch here in the sun and Rob and Brent once again attempted to catch a fish without success. When we embarked again, Brent continued to fish from the bow for awhile as I paddled.
Soon we encountered a moose calf along the right bank. We had never seen a solo calf before and suspected it may have lost its mother. It was so preoccupied with trying to escape some large biting flies that we were able to paddle within several feet of it before it noticed us. As it dashed into the forest, we beat a hasty retreat as the flies began to attack us. A ways down river we startled a full grown moose on the right bank which oddly jumped into the water and swam across our path to the left side of the river rather than retreating immediately into the woods. Flies of various sorts continued to bug us as we proceeded down the river.
Late in the afternoon, we began looking for a campsite. I had a particular site in mind, but when we arrived at that point, we found that the site was now occupied by a cabin. I had a backup site in mind a little farther down the river. When we came to it we stopped and reconnoitered, but the camp had been so trashed by fishermen that we couldn't stand to stay there. We were tired and it was getting late, but we remained particular about our campsites. We explored another potential site on the left bank, but it was very weedy and unattractive as well as hot and buggy. Aware of our tendency to be too particular at times, I warned everyone about the difficulty of finding and setting up a camp so late in the day, and incited some urgency into the search. However, I was also well aware that conditions were much more pleasant out in the canoe than they would be back in the brush with the swarming insects, so prolonging the paddle was not entirely foolish.
Finally, around 8:00 p.m., Brent and I spied what we thought might be level ground behind the trees lining the river bank on the right side of the river.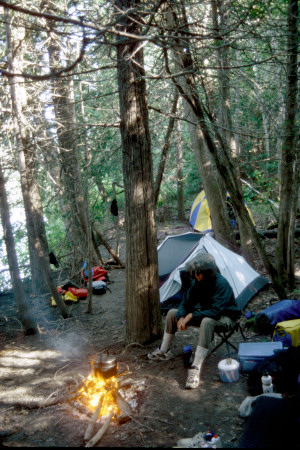 We found a marshy space where we were able to break through the brush and explore. It was an area that had obviously been flattened and cleared to some extent by higher river levels—dried river bottom that would turn into viscous mud in a rain storm, but reasonably dry now. By using the ax to clear out some of the dead branches, we were able to fashion a reasonably good camp site, albeit a bit dark and close. Brent did most of the work clearing out the scrub and digging a good fire pit. We were able to have a good fire and some relaxation before turning in. Fortunately, it didn't rain.
Thursday, July 2
Awakened by a moose; rapids and moose sightings; another makeshift but wonderful campsite; a cool swim; encounter with a sturgeon; beautiful evening.
Rob awoke to the sound of a moose splashing along the riverbank nearby. He woke Jim, but by the time they got the tent unzipped, the moose had moved away. I got up and made a fire and after breakfast we sat around the fire enjoying relatively bug-free conditions.
It was another pretty, sunny day on the river. We saw a couple of moose and ran a few rocky rapids in a stretch that we believed to be the start of the Ten Mile Rapids. Other than that, it was relatively uneventful. By late afternoon we once again found ourselves searching in vain for a suitable campsite. We examined several possibilities, but nothing seemed acceptable.
Finally, I saw what looked like a promising spot on the left bank.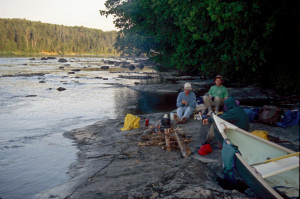 The river was fairly broad here, but from a distance, I say a relatively level rock shelf extending in front of woods that seemingly contained room for tents. What I didn't realize was that this was another area in which a huge rock shelf extended halfway across the river creating difficult to see shallows. We had to wend our way through this underwater labyrinth, occasionally running aground, to make our way to the visible rock shelf I had imagined to be a good docking place.
It turned out to be a great spot, but I saw no evidence that anyone had used it before. I suppose that the rocky shallows surrounding it tended to make it inaccessible and inconvenient for most people, especially if the water level was a little lower. The rock shelf was perfect for docking the canoes and there was plenty of room to build a fire and set up our kitchen there. A couple of steps up took us into the woods where there was enough room for our tents although we had to spend some time with the small shovel and ax leveling and clearing it.
After the warm work of leveling the site and setting up camp, all of us went swimming except Brent. The water was cool and refreshing, but not uncomfortable. Unfortunately, the flies were voracious and I managed to pick up a small leech on my leg. As dusk approached, the flies gradually diminished. Even the black flies took a break. It was a very pleasant evening to sit out on the rock shelf by the water and watch the sunset brighten the trees across the river and color the high clouds.
As we set there enjoying the fire, I noticed what I at first thought was a large black butterfly skimming along the surface of the water.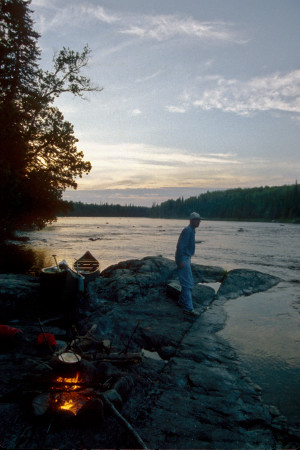 When I pointed it out to my companions, we also suddenly realized that it was a large ridged fin and that there was a second fin about three feet behind it. It was only a few feet from where we sat. Finally, we realized that it was a very large fish and that the second fin was actually its tail fluke. The fish wandered around in the rocky shallows for almost an hour and at several points undulated partly out of the water enough that we could see that it was nearly four feet long and perhaps 40 or 50 pounds in weight. Rob surmised that it was a sturgeon (correctly as it turns out) and he tried to catch it with his 10-pound test line. Brent, who was still wearing his wet shoes, then took over the task with single-minded determination, maneuvering along the shallow rocks in pursuit, casting his line and repeatedly getting it snagged. Eventually, with growing darkness, he gave up and came back to join us for dinner.
Dinner was especially pleasant because the flies had all disappeared and the evening was so beautiful. But, as darkness finally fell, out came the mosquitoes in full force. We retired to the tents around 11:00 p.m. It remained pleasant, cool and clear, with the sound of water rushing through the shallows. It started to rain around 2:00 in the morning.
Friday, July 3
Very leisurely morning; Ten Mile Rapids; the river becomes a lake; campsite on an old road; late dinner and fireworks.
We rose at 9:00 a.m. It was cloudy, but drying out, with patches of blue sky to the north. No one was in a hurry, so we spent a leisurely morning around the campsite. Rob made a fire. We did not break camp until 1:00 p.m. By that time, the skies had pretty much cleared and the temperature was in the upper 60's.
We passed through a series of easy rapids, apparently the remainder of the Ten Mile Rapids. We stopped for about a half hour below the last set of rapids so Brent could do some fishing. Thereafter, the river changed character due to the dam near Fauquier. It was more like a lake with very little current and many submerged trees. Rob trolled for awhile, but achieved nothing other than a few snagged lines. In addition to the lack of current, we paddled into a head wind most of the afternoon.
We began looking for a campsite around 4:30. There was no sign of any established site, but we investigated several possibilities. Finally, we settled on an open area on the left side. Actually, it was the former sight of a logging road that had once crossed the river at this point, before the river had been dammed.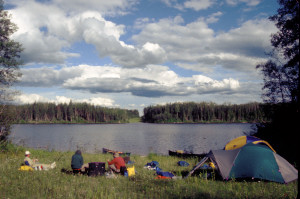 We could see the continuation of the road on the opposite side of the river. Basically, it was a meadow with long grasses and wildflowers. It was also quite warm in the late afternoon and there were swarms of black flies. We set up our tents in an area closer to the trees in hopes of getting some shade.
As evening approached, we chopped up a fallen tree and built a sizable fire. Dinner was served at around 8:30 p.m. This night we had Sante Fe rice with chicken, mixed vegetables, and, for dessert, a mixture of blueberry cheesecake and raspberry crumble. We sat around the fire until about 11:30 p.m. celebrating our last night on the river and Independence Day (a day early) with our own fireworks in the form of oxygen granule packs from the freeze-dried food packs. When tossed on the fire, the granules emit feeble sparks. Overnight, the temperature dropped into the lower 40's. This was the coldest temperature we had experienced in July on any of our trips.
Saturday, July 4
Early rise on a cold morning; short trip to the dam; the trip south.
As planned, we rose early at 6:15. It was cold, everything was covered with dew, and a mist was rising from the river. We grabbed a quick breakfast, packed everything up, and launched by 7:15 a.m. We reached the dam at Carmichael Falls by 8:00. The take out was on the right bank. Mike arrived right on schedule at 8:30 to pick us up. We fueled the van in Fauquier, stopped for desperately needed coffee in Smooth Rock Falls, and stopped for lunch in Timmons before dropping off Mike and continuing down the long road south.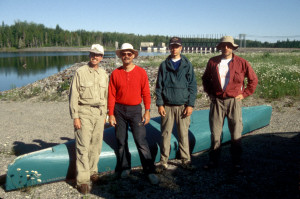 L. Walter
February, 2008